There's much more to styling our hair than we know. Our hairstyle or haircut acts as the frame that emphasizes our best features – or our worst. In the morning, you might simply pull your straight hair into a ponytail and leave the house. If you're thinking of trying a new straight hairstyle, you might be ready to just hop over to the salon and ask them to give you that cut you've been obsessing over for weeks. However, before you style your hair or go under those scissors, you should think about one very important feature that determines how style will look on you: your face!
Your face shape is the most important factor when it comes to choosing a hairstyle. A hairstyle that complements your face in the right way will bring out your beauty, minimise your flaws and have you feeling your absolute best. Even the prettiest hairstyle or haircut can look wrong if you haven't got the right face shape for it.
Unsure of how to style your hair? We've got it covered! Here's a quick and easy guide on choosing the right straight hairstyle for your face shape. Before you choose your hairstyle, you'll have to know your face shape.
Oval
Oval faces are longer than they are wide, and the jawline and the forehead are the same width. Oval faces are also one of the most versatile face shapes, as it pairs perfectly with almost any hairstyle. For oval faces, there are no limitations! If you've got an oval face, you're in luck. Try any short, medium or long style that you like. It can be a long cut with a middle part, a stylish lob or even a pixie cut- you'll find that almost all of them look great on you.
Round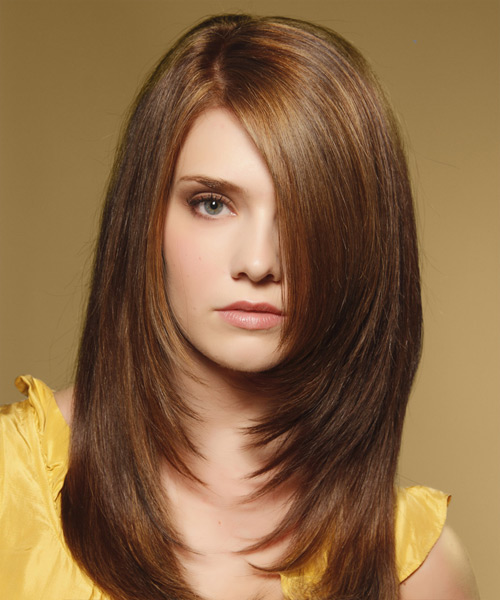 Round faces have a clear circular appearance. Since round faces don't have much length, the goal for this face shape is to add length to your face in a fashionable way. Short hairstyles that don't pass the bridge of your nose are great for this needed length, like pixie cuts. Middle parts are also a must-try for this face shape, as it gives the illusion of length. Stay away from chin length bobs and blunt bangs! These only make a round face look shorter and rounder.
Square
Square faces have a strong forehead and a sharp, angular jaw. The main goal in styling for this shape is to soften the jawline and minimize the strong, wide forehead to bring attention to the rest of your face, like your eyes and mouth. To do this, bangs are a saving grace! Side-swept bangs are perfect for drawing attention away from the forehead, but not completely hiding it. Bangs also succeed in creating the illusion of a softer jawline, as the shape of the jawline clashes less with the forehead. An up-do or a ponytail with side-swept bangs work magic on this face shape, but stay away from styles like sleek ponytails that leave the face bare.
Heart
Heart-shaped faces are wide at the forehead and narrower at the jawline. This is also a rather versatile face shape, as the natural narrowing of the jaw gives the face good length. With this face shape, you can try almost any style and see what works for you, but remember! Any style that makes your face look too short should be avoided. Try a high bun, a high ponytail or a lob for your best look.
Triangle
Triangular faces are opposite to heart faces. They have a wide jaw and a narrow forehead, so the goal here is to narrow the jaw and widen the forehead. Layered cuts are the best for this face shape. Try a hairstyle that gives your hair a bit of height. High buns, messy buns and layered pixie cuts work amazingly with triangular faces.
Diamond
With diamond-shaped faces, the high cheekbones and narrow chin and forehead are the perfect canvas for either embracing the cheekbones or minimizing them. It's all up to you! A high bun or an up-do on a diamond-shaped face creates a stunning, regal look, while styles with bangs or styles that are tucked behind the ears create a softer look.
Oblong
Oblong faces may be tricky to find the right hairstyle, but don't worry. As these faces have slightly wide jaws and foreheads, and are longer than they are wide, the trick is to add width to your face. Styles or cuts that turn inwards at the chin or shoulders are perfect. Try a classic bob or a Rihanna-esque lob to get the best out of this shape!
Use this guide, and you'll have a whole new perspective when it comes to styling. Styling your hair according to your face shape will have a tremendous impact on the way you look and feel. Don't be afraid to embrace your face shape – there's beauty in all of them! And never forget to set a suitable heat setting from your hair straightener for the best results.
Published on 11/17/2016 by Christine